Business Lawyer Services In Jenks, OK
Protect your business and provide long-term security with the experienced legal services from J. Miller Law Firm in Jenks, Oklahoma. Led by Jamie Miller- a knowledgeable Jenks business lawyer who understands the needs of today's businesses. They are committed to providing comprehensive advice tailored to each industry.
At J. Miller Law Firm PLLC, their attorneys will work to ensure the protection of your company or organization throughout every stage of its development or growth. From formation to dissolution, from contract negotiations to acquisitions, their legal team is here to help you protect and secure your future. Whether you are just getting started or have been in business for years, J. Miller Law Firm can help with everything from contract drafting and review to asset protection planning and even permitting issues. Protect what matters most with the best Jenks business lawyer.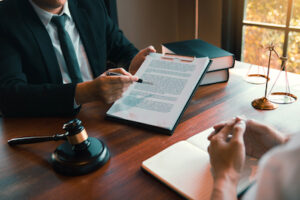 J. Miller Law Firm offers the following business lawyer services in Jenks, OK:
Contract Drafting, Review, and Negotiations, Jenks, OK
Buy-Sell Agreements, Jenks, OK
Dispute Resolution, Jenks, OK
Business Start-Up Packages, Jenks, OK
Estate Planning, Jenks, OK
Probate Law, Jenks, OK
J. Miller Law Firm offers Jenks business lawyer services to meet any needs you may have. With their forward-thinking approach, they strive to make sure your business is protected in every way possible. Visit their website or contact them today to learn more about how they can serve you as a Broken Arrow business lawyer.
Phone Number
(918) 938-1322
Address
7136 S. Yale Avenue
Suite 215
Tulsa, OK 74136
Directions
Click here for driving directions.
Hours Of Operation
Monday-Friday: 8:30 AM-5 PM
Saturday & Sunday- Closed
Our Jenks, OK Business Lawyer Review Sites
Our Facebook Business Lawyer Page
Our Google Business Lawyer Page
Business Lawyer In Jenks, OK – Proudly Serving